The Yavapai-Prescott Indian Tribe will host the 16th Annual Gathering of the Pai on June 13, 14 & 15, 2014. The Gathering brings five of the Yuman Speaking Tribes together to celebrate their history, language, narratives and culture. This year's Gathering of the Pai will share the Pai People's relationship among its Arizona members and their relatives relocated to Mexico. The main purpose is to remind Pai people of their past as Native Americans and to share with the public the rich and beautiful culture. The event is open to the public.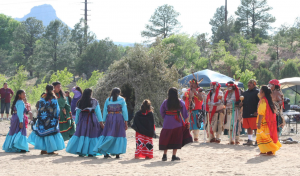 Over the past 15 years the three Yavapai Tribes, along with the Hualapai and Havasupai, have gathered together as one to recognize their relationship to each other as indigenous people. The Gathering event has traveled throughout Arizona, being hosted by each of these five different Pai Tribes.
The gathering will exhibit cultural performances, food, entertainment and traditional cultural dwellings. Demonstrations of authentic arts & crafts from Pai people will be on display for the public to experience. A special naming ceremony for Ms. Pai will be conducted. The event encourages and promotes Pai People to continue the cultural and traditional ways of being Native peoples.
The three-day event is free of charge and plenty of parking spaces are available. The Gathering of the Pai will be held at ceremonial grounds on the Yavapai-Prescott Indian Reservation, located approximately four miles west of Bucky's Casino at 600 EZ Street in Prescott, Arizona.